Registration
Access to the Application is done only through registration. By registering each user gets personal access to the ASMS system. If you are a first time user and need to register chose "Sign Up" rather than existing user. There you will fill out the registration form and create your personalized Id and password.

---
Login
The user logs into the application through login and password. The password preferably should be 8 characters long for security and reliability purposes. If you are a new user/first time user do not forget to fill in the new user form. Once the sign up is completed, then you are just a click away from entering into the Online Application.

---
Password
The password is a set of charters the user chooses to log into the system. The password is encapsulated. Care should be taken to keep the password at least 8 characters long. Passwords starting with a hyphen (-), underscore (_), dot (.) and numbers (1, 2, 3.) are not allowed. A typical password starts with an alphabetical character. Please remember the password throughout the usage of the application.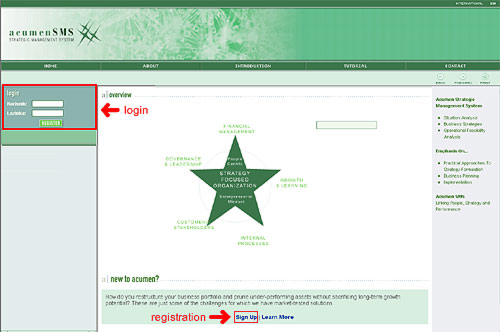 ---